A cream by a special aroma and sweet and pleasing taste, it is suitable for breakfast and snack on bread or roasted slices. For children it is an excellent alternative to hazelnut cream, it is ideal to combine with fresh cheeses and for tasty aperitifs. Craftsmanship without the use of preservatives and dyes preserves the characteristics of chestnuts that are processed on fire and manually peeled.
GLUTEN FREE / PALM OIL FREE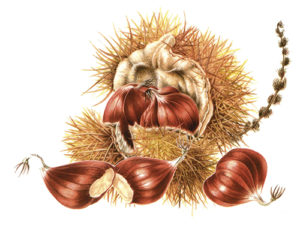 Ingredients: Organic Baked Chestnuts, Organic Brown Sugar, Natural Pectin.
The cream is obtained by the processing of autumnal chestnuts, however, production is in winter when roasted chestnuts are made, so cream is sweet and tasty.
FORMATI DISPONIBILI: 240 g / 40 g